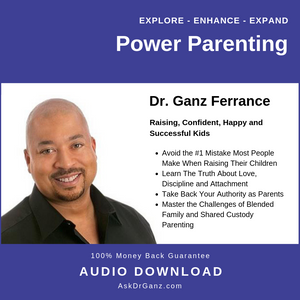 100% Money Back Guarantee
Raising, Confident, Happy and Successful Kids
Avoid the #1 Mistake Most People make When it Comes to Raising Their Children
Learn The Truth About Love, Discipline and Attachment
Take Back Your Authority as Parents 
Master the Challenges of Blended Family and Shared Custody Parenting
If you are like the rest of us, you didn't receive the "Owner's Manual" when your child arrived in your life. The truth is that Parenting tends to be hit-and-miss, trial-and-error, on-the-job training that can seem overwhelming at times. This audio workshop is designed to help you make sense of this incredibly important task and provide you with valuable insights, techniques and approaches that will help you raise Happy, Healthy, Confident and Successful Kids no matter what stage of parenting (or grand-parenting) you find yourself in. 

Let ME help make YOUR life easier as a parent while giving you and your kids the relationship success you both desire. 
NOTE: This is a digital download. You will receive an email with download link after your purchase is complete.