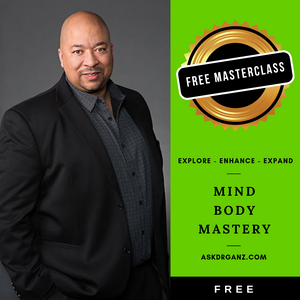 Register for my
FREE MasterClass

— a $250 value! You will be notified when the next MasterClass is scheduled.
Master your potential in this one hour MasterMind Coaching webinar with Dr. Ganz!

Masters have been revered for centuries. Whether your chosen field of pursuit is music, sculpting, business or martial arts, true mastery is mastery of self.
Discover your greatest asset and expand your life. Unlock the hidden talent, knowledge and wisdom that you already possess so that you can go further and accomplish more.
You will learn how to:
Harness the Power of Your "Secret Brain"
Work less and Achieve More
Maximize your Greatest Asset
Learn Faster and Adapt More Quickly
Have your Emotions Work with You Instead of Against You when the Pressure is On
Experience greater productivity
Enjoy more fulfilling relationships
Harness your intuition to dramatically improve your decision-making ability
Understand boundaries and how to use them
Learn my number one secret towards enhancing communication, loving yourself and the people you chose to have around you and remember that happiness is a choice. In this keynote or workshop you will discover how to be far more effective at getting your point across and enjoying deeper relationships with others.

Only you have the power to govern your actions and how people respond to you. Learn to master communications with colleagues, family and partnerships so that you can get the most out of each interaction.
Speaking Testimonials
Mind Body Mastery
300% Return On Investment On Every Dollar
Research shows a minimum of 300% return on investment for each dollar spent on personal growth and well-being for you and your team. The payback is in improved productivity, health, and relationships—both personal and professional.
This is the foundation of a winning corporate culture which produces even further benefits in attracting, supporting, and retaining your company's greatest resource – your people. Dr. Ganz and his team provide direction tailored to meet your group's specific needs in order to reach your greatest level of achievement.
Corporate enhancement will help you and your employees become their best so that they can do their best for you and your business now and long into the future. By having your team learn how to deal with change, how to master STRESS in their lives, and in the workplace, how to prevent burnout, and how to create a work-life balance you will be sure to see an overall increase in performance and company morale.